Assalamualaikum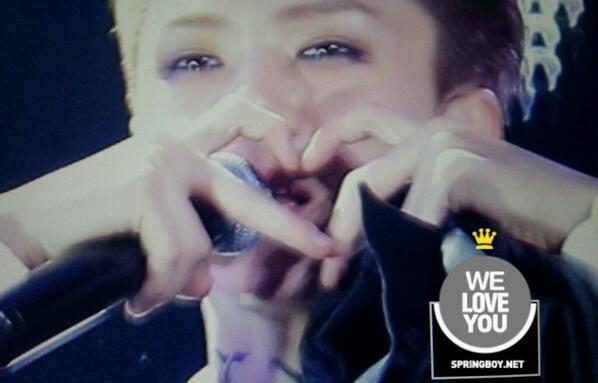 happy birthday to you oh sehun. the evil maknae in exo yet the cutest one. i feel so proud with you baby you're no longer kid anymore but will be the baby in my heart forever. the way he do heart-sign while teared up was the touching moment. yah baby you must be feel so happy when the other members prepared a surprise party to celebrate your birthday on stage. today is day two they attending greeting party at japan and the japanese fans is the luckiest one they got to celebrate sehunnie's birthday especially the fucking lucky fans that attended the event.
while sehun cried because of sudden surprise, the fans shouted 'don't cry.. don't cry' meanwhile the other members shouted 'cry cry' hahaha so cute. maintain your cuteness okay dear oh sehun. someone said on twitter that luhan has been a master behind this surprise birthday ehem ehem luhan you're caught. hunhan comeback today hihihi hunhan shippers must been drowning already.
first frame he looks so handsome plus eye contact omo and exo tattoo on his neck make him looks sexier hahaha sehun i can't believe you you definitely bias list wrecker. i just love you the way you are and loving your way of teasing your hyung and of course your yehet and ohorat. while second frame shows the breathless moment when baby sehun blowed the candle. if i'm not mistaken, they celebrate sehun's bday twice today because they have twice schedule for this event at japan. the one at 2pm while the other at 6pm japanese time
but sorry to say sehun-ah i remember for a while as today was your birthday i prepared my soul a few days before but before of school i accidentally forgot it. lol something wrong going with my head i had to have a medical check-up as soon as possible. as the exam came nearer teachers at school have schedule up so many additional class, kem and many more. sobs now i lost many update about exo i even missed exo day one at greeting party and day two as well. //sobs life must been so hard
then, i got to go now for second entry for today kkk i'll spam with two entries today. the next entry will be about overdose ehem ehem hahaha or i'll publish it tomorrow stay tune with me okayy. annyeong!
hashtag happy birthday oh sehun !