- SORRY. I SHOULD'VE UPDATE THIS ENTRY 3 DAYS AGO BUT HMM -
Assalamualaikum.
saeng-il chukka hamnida! saeng-il chukka hamnida! saranghaneun kibeom-shi! saeng-il chukka hamnida! uwaa uri kibeom has turned 23 in three days ago. 21st is chen's. 22nd is hyoyeon's while 23rd is key's. everyday is sm family's day lol.
i'm taking part along with fellow shawols on twitter for wishing him happy birthday (just like chen's) but unfortunately i have to give up too early as i sleep at 11.30 (hmm i guess) because so so sleeppy and tomorrow is school. by the way, we're trending this #키범아새일축하해 and it's going for top in worldwide trending. wow so many people has been love kibeommie :)
but it's disappointing enough that i only have today to update new entry. not like chen's birthday five days ago, i get to update once clock strikes 12am kst. but because of school i've to postpone until three days to make happy birthday entry. sobs sobs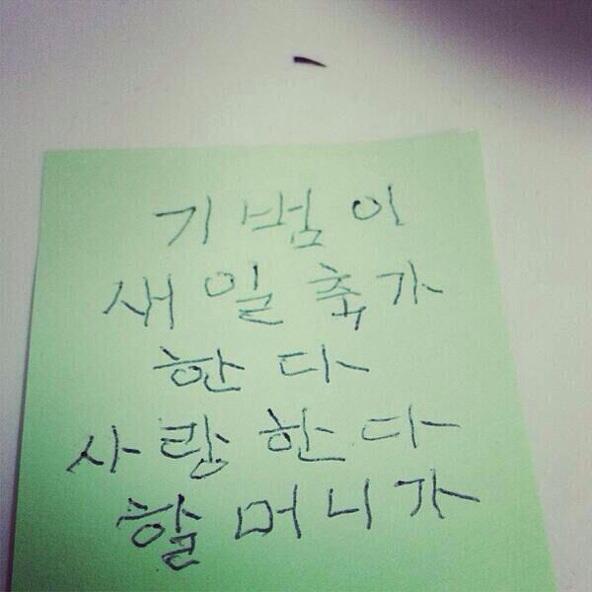 above picture is kibeommie's grandma message to him. waa such a heartwarming grandmother. i love these pairing grandmother and grandson :)
기범이 생일축가 한다 사랑한다 할머나가





trans: kibeommie happy birthday. i love you so much. -grandmother
hmm by the way, 23rd september was also my birthdate. so that's mean key and i shared same birthdate. we're twin lol. and nothing special on my birthday. i just spent a whole day in school. but what's special about my birthday is that i'm celebrating it with my new friends and new classmates. it has been four months since i entered form six and now i've to prepare for exam. next week is trial while tomorrow i'll be following my mother to kl and melaka for some holiday huhuhu.
now, it's late already. i've to finish up my homework, study for awhile and packing up my clothes. wuuhuu i'm so excited just to think about my weekend holiday. so many works to do so annyeong peeps!
p/s: i will try to update an 'happy birthday entry' when it's SHINee or EXO members birthday :)
p/s/s: why there's too many spams on cbox i'm so stressed it's so annoying to identified whether it's bloggers or spammers erghh i hate it ㅎㅅㅎ